LVL – Laminated Veneer Lumber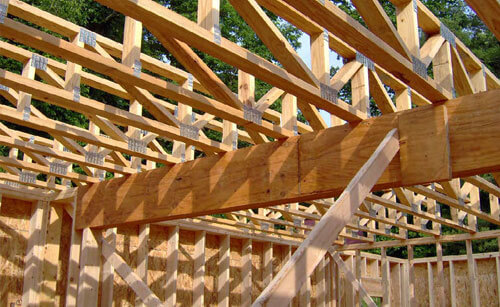 Laminated Veneer Lumber (LVL) is a very high strength engineered wood product made from veneers, bonded under heat and pressure, with very strong adhesives. It was first developed in the 1970's and became popular in the subsequent years.
The high strength of LVL lies in its manufacturing process, where thin veneers are layered on top of each other such that grains of each veneer are oriented in the same direction. The veneering process improves its structural properties by randomizing variability of the thin sheets or veneers of wood.
What are the advantages of LVL?
The biggest advantage of using an LVL is that despite its terrific strength, it is very light. Being an engineered product, it overcomes some disadvantages of natural timber like shrinking and warping. It is a good replacement for sawn timber because it is comparable to it in terms of strength.
New-age designers are slowly shifting focus to LVL, as it brings a unique aesthetic feel, different from regular steel or concrete. As it acts as a carbon-sink, it is also a sustainable forest product.
Since LVL is manufactured with strong resins, glue marks are often visible which can leave a dull, scrubby, patchy look on the surface of the product. But this can be solved by using suitable coats and paints.
LVL is ideal for door frames, window frames, joists, truss work, beams and many more structural applications.Today, modern architects are using it on the exterior of public buildings, inviting favorable reaction from the industry mavens as well as the general public. As a caution, only specially treated and high quality LVL should be used on the external facade of a building.
An architectural marvel called Metropol Parasol in Seville, Spain would make you admire the properties of LVL after you see the fluidity in the design of this floating structure.
If you have so far been a puritan who doesn't look beyond natural timber, concrete or steel, I suggest you to give LVL a try. It never fails to make a positive impression on a disbeliever!
If you want to share you experience of using LVL frames with us, you can do so by posting a comment in the comments section below. Or connect with us on Facebook, Twitter or LinkedIN.